Weeklong Seminars for K–12 Teachers, School Librarians, National Park Service Interpreters, and Museum Educators
If you completed an application for a 2014 Teacher Seminar, seminar notifications will be available through your account at www.gilderlehrman.org/seminar-status on March 14 at 2 p.m. ET. You will not receive an email notification. Successful applicants will be directed to additional information and registration instructions through their online accounts.
---
Why Apply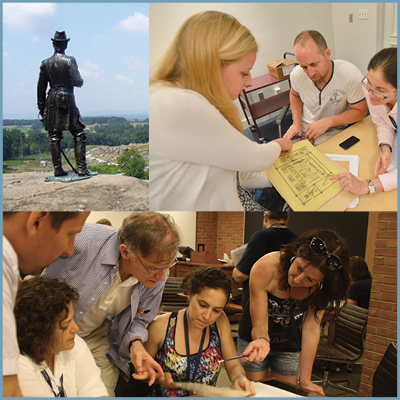 MAJOR TOPICS IN AMERICAN HISTORY: The Civil War, The American Revolution, The Civil Rights Movement, The Cold War, 9/11, Literature, Art, and more. Click here to view full schedule.
LOCATED AT PRESTIGIOUS UNIVERSITIES AND HISTORIC SITES: Yale University, Harvard University, Stanford University, University of Virginia, Columbia University, Oxford University, and others.
TOP-QUALITY PROFESSIONAL DEVELOPMENT: Lectures from eminent historians, archival visits, Common Core pedagogy, with graduate credit available.
ROOM AND BOARD AND TUITION ASSISTANCE: Fully paid for K–12 public school teachers, matching funds for independent school teachers.
Eligibility: Teacher Seminars are part of the Gilder Lehrman Affiliate School Program. If your school is not currently a member, you will be directed to a combined Affiliate School registration and Teacher Seminar application form. Full-time K–12 history, social studies, and English language arts teachers, and school librarians are encouraged to apply. National Park Service interpreters, museum educators, and New Teacher Fellows are also welcome.
Please check back here in November 2014 for information on the 2015 Teacher Seminars.