The South in American History
A Self-Paced Course
The South has played a central role in American history from the first permanent English colony through the United States of today. Join Gilder Lehrman and Edward L. Ayers of the University of Richmond—to look south for American history.
Trace the role of the South in American history across four centuries,
exploring the creation of the largest and most powerful slave society of the modern world and the attempt to create a new independent nation to sustain that society
charting the ending of slavery for four million people, the social transformations that followed in Reconstruction, and the upheavals of the first New South, and
documenting the world of segregation in the twentieth century, the overthrow of that system, and the emergence of the complicated and sometimes conflicted South we know today
The course includes a broad range of historical actors as active participants in the story, incorporating economics, politics, religion, and culture. Innovative digital tools and virtual tours will help participants see this history in new ways.
Course Content
The course consists of:
Six seminar sessions with Professor Ayers
Four digital history lab sessions
Primary source readings to supplement Professor Ayers' lectures
A certificate of completion for 15 hours of professional development credit
All sessions will be available to watch on-demand.
Readings
The optional readings for each seminar session are listed on the "Resources" tab on the course page.
Please note: participants are not required to read or purchase any print materials. Quizzes will be based on the content of the seminar recordings rather than the readings.
Pricing
Course Access
After your purchase, you may access your course by signing in and visiting the "Community" tab at the top of the Gilder Lehrman Institute homepage.
Questions
If you have additional questions about The South in American History or the Gilder Lehrman self-paced course program, please visit our FAQ page or click here to contact us.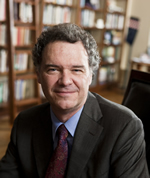 Lead Scholar
Edward L. Ayers
Edward L. Ayers is the Tucker-Boatwright Professor in the Humanities, University Professor, and President Emeritus at the University of Richmond. The author/editor of ten books (including the Bancroft Prize–winning In the Presence of Mine Enemies), Ayers also directed the online history project The Valley of the Shadow: Two Communities in the American Civil War. He serves as a cohost of BackStory, a nationally syndicated radio show that connects American history to the present day. In 2003, he was named Professor of the Year by the Carnegie Foundation and the Council for Advancement and Support of Education. In 2013, he was awarded the National Humanities Medal at the White House by President Barack Obama in recognition of "his commitment to making our history as widely available and accessible as possible."