History in a Box is a comprehensive series of resource boxes that addresses major eras and topics in American history. Each box provides unique multimedia materials for teachers at every level from elementary through middle and high school. The resources have been designed to answer educators' requests for teachable primary sources. Each History in a Box includes a resource book of documents placed in context with transcripts and images, posters and placards for classroom use, a poster-sized timeline, a DVD of lectures by eminent historians, a CD of music and/or readings, and related support materials.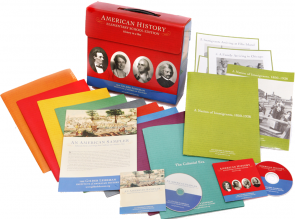 American History: An Introduction
The Founding Era
Abraham Lincoln
All the boxes are available for purchase in the Gilder Lehrman History Shop.