A primary source by Enoch M. Duley
View this item in the Collection.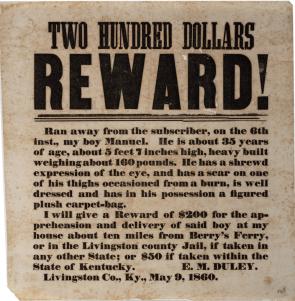 Runaway slave ads were a reality in America as long as slavery existed. Appearing as broadsides and in newspapers, such ads offered monetary rewards from slaveholders for the capture and return of escaped slaves.
On May 9, 1860, Enoch Duley of Kentucky offered a reward for the capture and return of his slave Manuel. Under close scrutiny, the lives of particular slaves emerge in fragmentary details, including names, physical descriptions, talents, personalities, and other hints of their individuality. This broadside describes Manuel's height, weight, and other physical characteristics as well as more subjective views of the slave as "well dressed" with a "shrewd expression of the eye." According to historian Marion Lucas, an enslaved laborer such as Manuel was then worth about $1,000,[1] and Duley's reward for Manuel's return was correspondingly substantial. Duley offered $50 if "apprehension and delivery" took place within Kentucky, or $200 if "taken in any other State," an offer that might induce people to return a slave who had escaped to a free state.
---
[1] Marion Brunson Lucas, A History of Blacks in Kentucky: From Slavery to Segregation, 1760–1891 (Frankfort: Kentucky Historical Society, 1992), 85.
Questions for Discussion
You are seeing this page because you are not currently logged into our website. If you would like to access this page and you are not logged in, please login or register for a gilderlehrman.org account, and then visit the link that brought you to this notice. Thanks!
Metadata
Make Gilder Lehrman your Home for History
---
Already have an account?
Please click here to login and access this page.
How to subscribe
Click here to get a free subscription if you are a K-12 educator or student, and here for more information on the Affiliate School Program, which provides even more benefits.
Otherwise, click here for information on a paid subscription for those who are not K-12 educators or students.
Make Gilder Lehrman your Home for History
---
Become an Affiliate School to have free access to the Gilder Lehrman site and all its features.
Click here to start your Affiliate School application today! You will have free access while your application is being processed.
Individual K-12 educators and students can also get a free subscription to the site by making a site account with a school-affiliated email address. Click here to do so now!
Make Gilder Lehrman your Home for History
---
Why Gilder Lehrman?
Your subscription grants you access to archives of rare historical documents, lectures by top historians, and a wealth of original historical material, while also helping to support history education in schools nationwide. Click here to see the kinds of historical resources to which you'll have access and here to read more about the Institute's educational programs.
Individual subscription: $25
Click here to sign up for an individual subscription to the Gilder Lehrman site.
Make Gilder Lehrman your Home for History
---
Upgrade your Account
We're sorry, but it looks as though you do not have access to the full Gilder Lehrman site.
All K-12 educators receive free subscriptions to the Gilder Lehrman site, and our Affiliate School members gain even more benefits!