Fighting discrimination during World War II: Eleanor Roosevelt's "four basic rights," 1944
Posted by Sandra Trenholm on Mon, 05/05/2014 - 8:19am
In this newly received donation to the Gilder Lehrman Collection, Eleanor Roosevelt responds to a correspondent who was apparently worried about the desegregation of restrooms and forced social interaction between the races in the government's movement toward racial equality in some spheres. Mrs. Roosevelt enumerates the "four basic rights which I believe every citizen in a democracy must enjoy. These are the right for equal education, the right to work for equal pay according to ability, the right to justice under the law, the right to participate in the making of the laws by use of the ballot."
For more information, click here.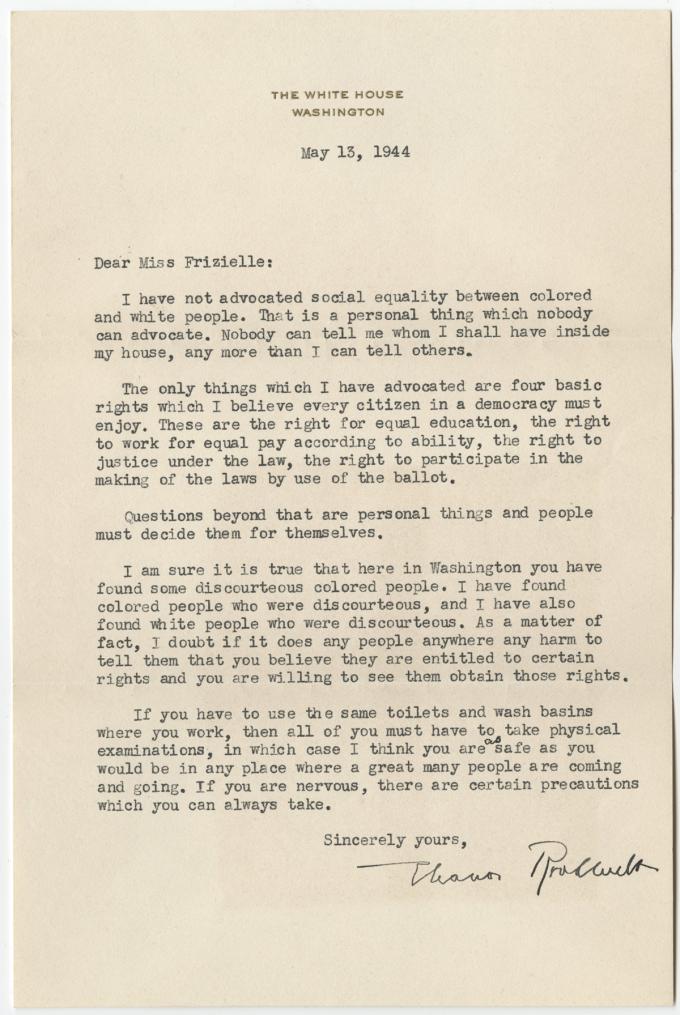 Excerpt
The only things which I have advocated are four basic rights which I believe every citizen in a democracy must enjoy. These are the right for equal education, the right to work for equal pay according to ability, the right to justice under the law, the right to participate in the making of the laws by use of the ballot.
Questions beyond that are personal things and people must decide them for themselves.
I am sure it is true that here in Washington you have found some discourteous colored people. I have found colored people who were discourteous, and I have also found white people who were discourteous. As a matter of fact, I doubt if it does any people anywhere any harm to tell them that you believe they are entitled to certain rights and you are willing to see them obtain those rights.